If you've read our blog about the history of the house, you'll know that prior to becoming a wedding venue, Netherbyres House was a home for retired gardeners. So as you can imagine, it needed a little bit of updating before we could start welcoming our couples through the door.
We've always loved bold interior design (and in particular a bold wallpaper!) and it felt like that's what Netherbyres was crying out for with its magnolia walls and brown carpets.
So here's a few pics of some of the finished rooms and all the details…
The lounge / bar
The original corniced ceiling of the lounge is incredible and already had dusky pink detailing. So we used that as a basis for our colour palette. And as the Chandelier in the room felt very art deco, we decided to go for 'Deco Martini' wallpaper from the wonderful Divine Savages (more of them to come later). To complement the blue tones in the wallpaper, we picked Farrow and Ball Stiffkey Blue for both the walls and woodwork.
And because that wasn't enough colour for us, we introduced a couple more with some sumptuous mustard and turquoise velvet sofas from Sofas and Stuff. We accessorised the walls with bright and quirky pieces of artwork featuring Philomena the Flamingo and the legendary David Bowie.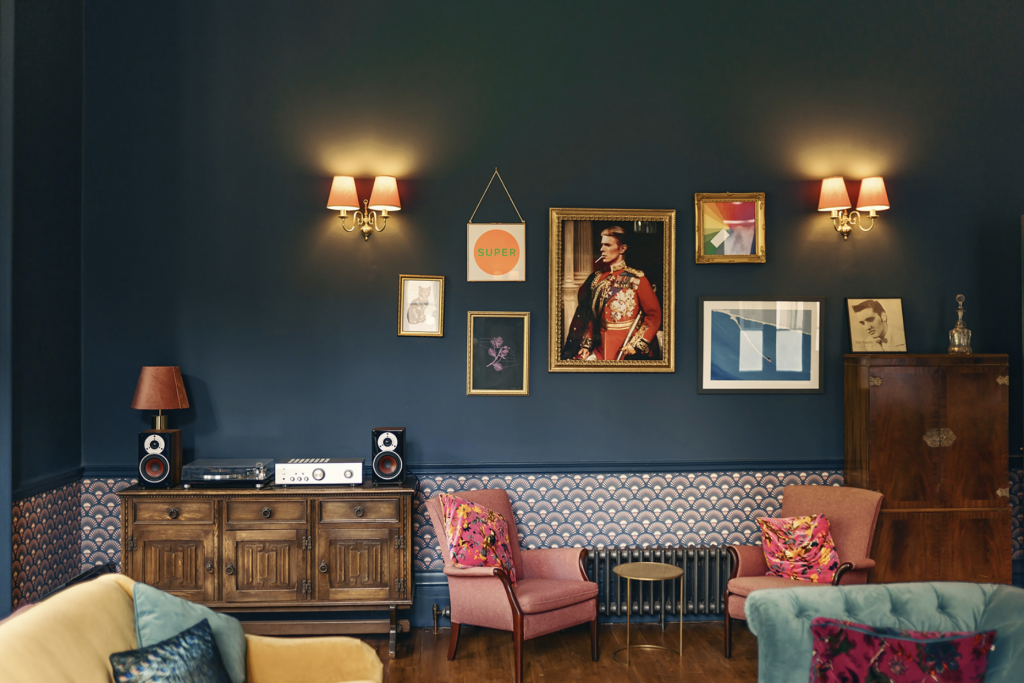 Our newly installed bar, designed by the hugely talented team at JMDA, which looks like it was always meant to be situated in front of the large original mirror, features an incredible marble-effect Versital top, pink panelled front and brass shelving.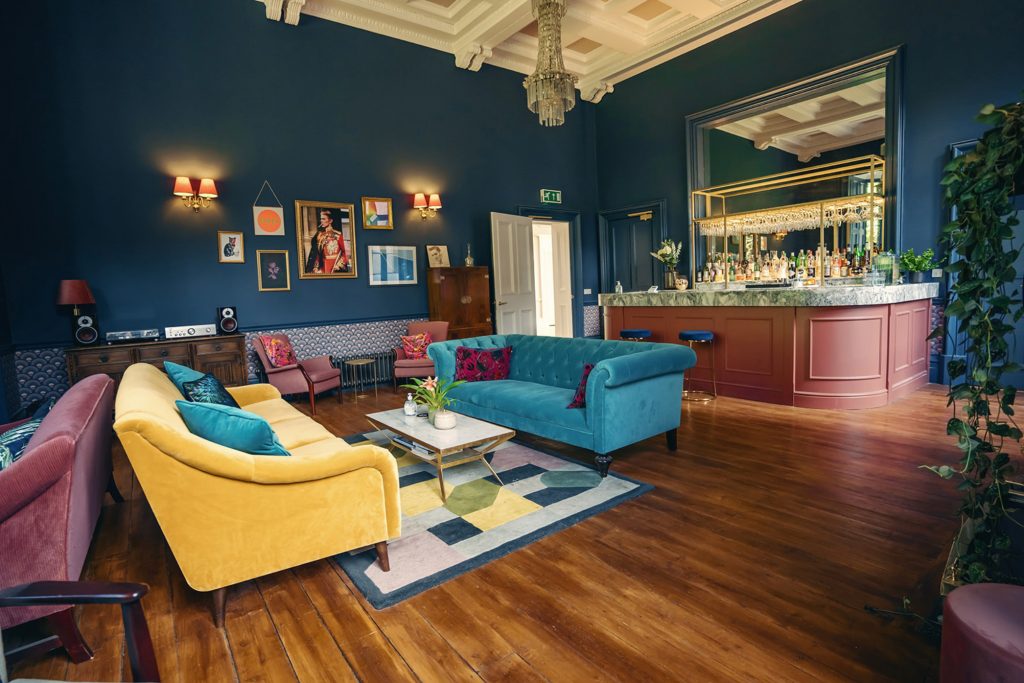 The dining room
When we told our decorators we wanted Farrow and Ball Studio green everywhere, I think they thought the paint fumes had gone to our heads. But we wanted something really dramatic and warm for the dining room. And the dark green matches beautifully with the green specs in the marble-effect 'Deco Garbo' wallpaper by Fardis which adornes the ceiling.
The original chandelier works perfectly as the focal point above the table. Oh and the table has quite the story to tell… it was created for a National Theatre production of Hamlet starring Benedict Cumberbatch. Benedict if you're reading this, you're welcome to come and visit it any time.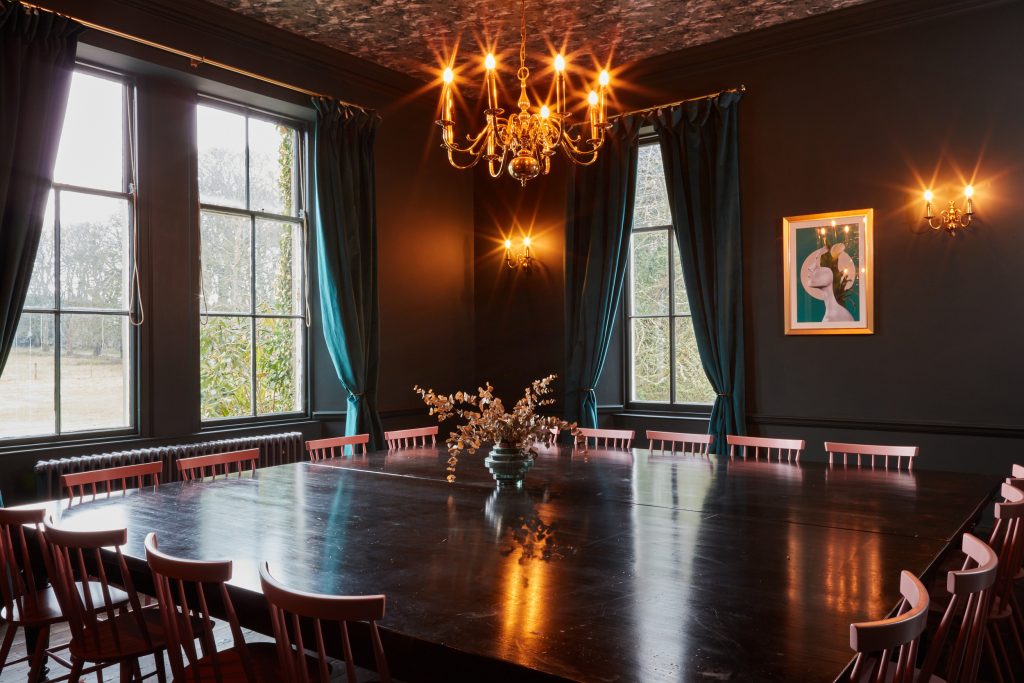 We broke up the dark colours with pink rugs, chairs and crockery, teamed with gold cutlery for that extra bit of decadence.
The entrance hall
We wanted the entrance to be bold and inviting. Being south facing, it's one of the best rooms for plants, and anyone that knows Mike knows he's a tad obsessed with them. So we decided to theme the room around them, and what better wallpaper to pick than Cole and Son 'Bluebell Botanical'. We complemented the gold tones of the wallpaper with Farrow and Ball Babouche walls and woodwork.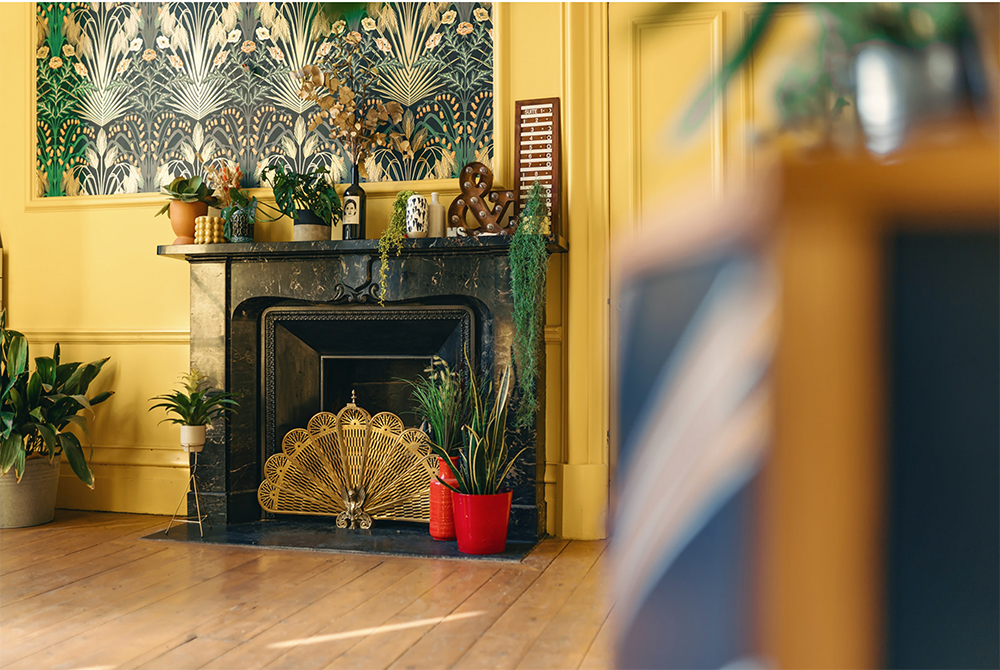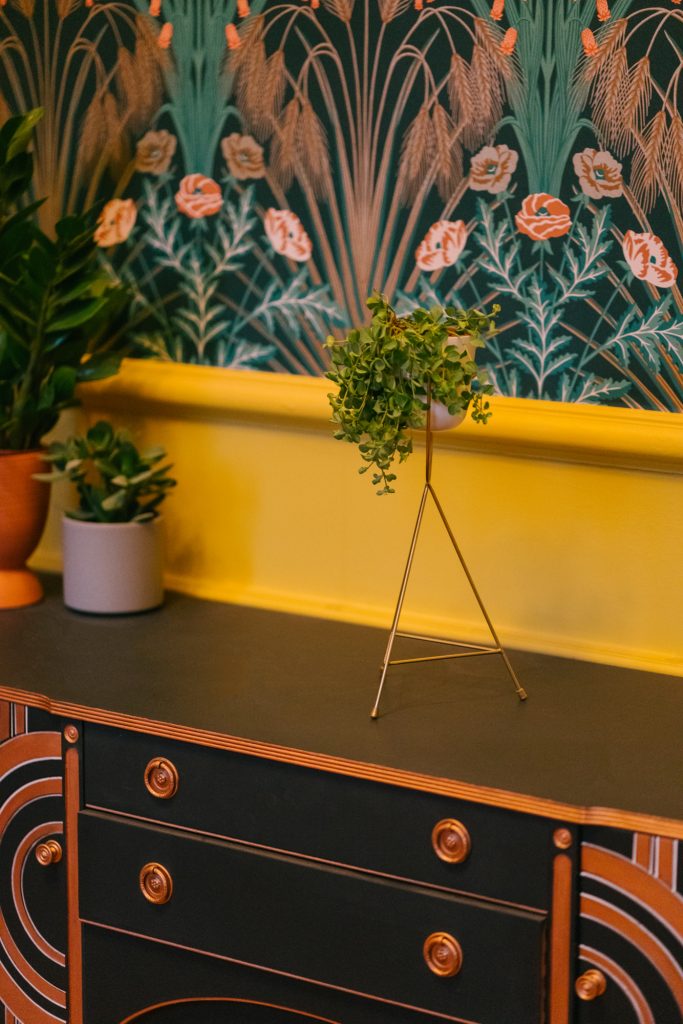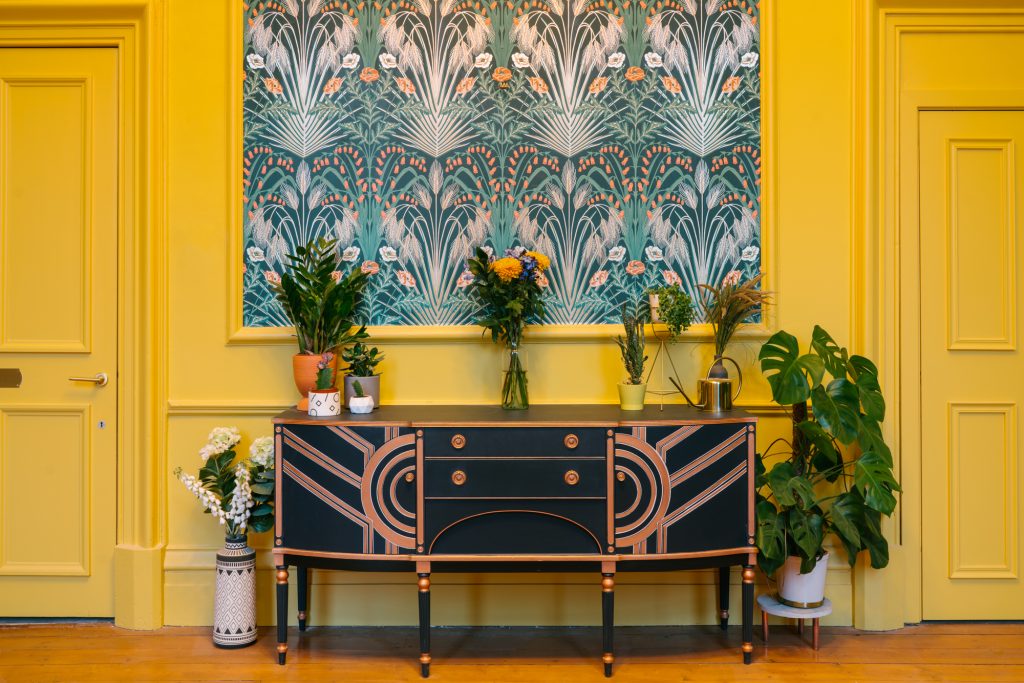 We picked up this beaut of a sideboard from @theplaceongraystreet in Broughty Ferry, the perfect place to prop some plants!
The toilets
And the botanical theme continues in the guest toilets. This time we've used green marbelled Versital tops, Mind the Gap Amazonia wallpaper, patterned floor tiles and an art deco inspired mirror. Brass light fittings and taps finish off the look.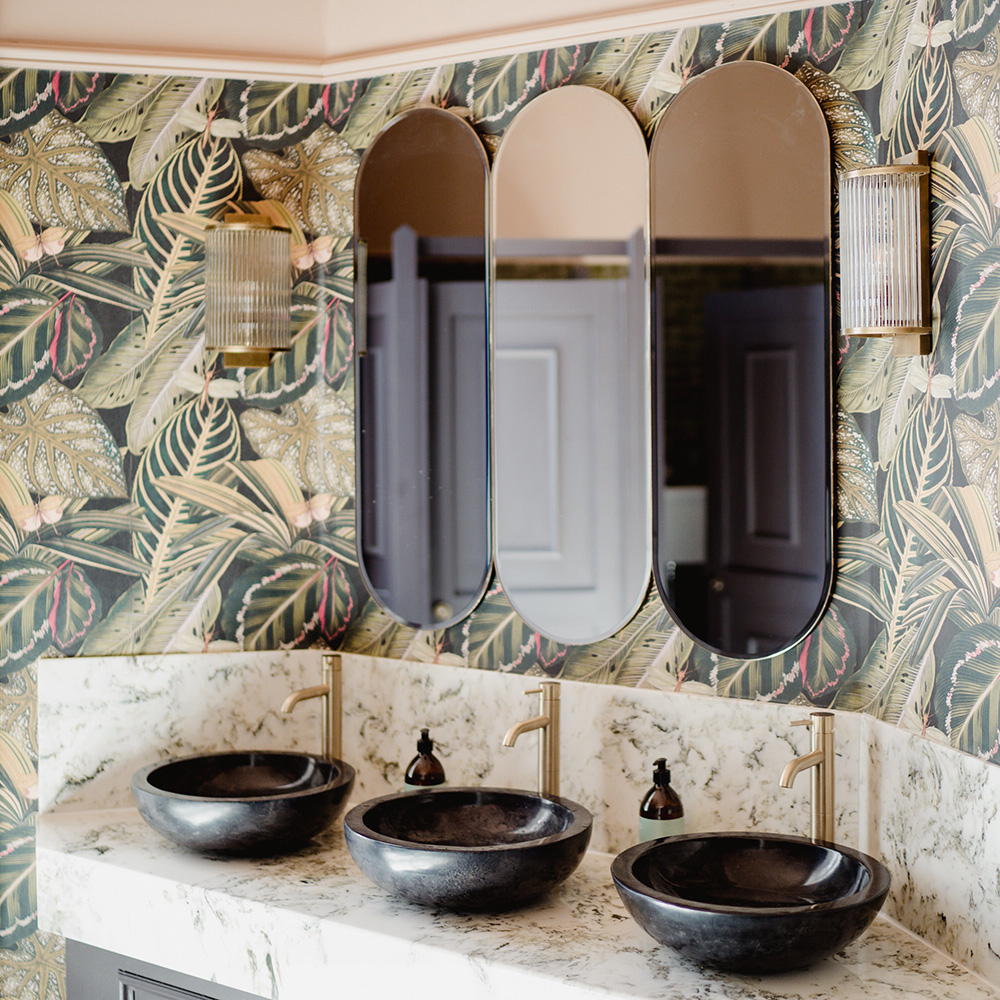 And for this one, we went for another Divine Savages favourite; Crane Fonda, light grey walls and dark blue hexagon tiles.
Bedrooms
Each of our bedrooms has been given its own unique style. This one was designed by our good friend Victoria Hopkins Interiors and features Farrow and Ball Lotus wallpaper and Setting Plaster walls, with dark grey woodwork. And a matt black four poster bed, just to add to the romance!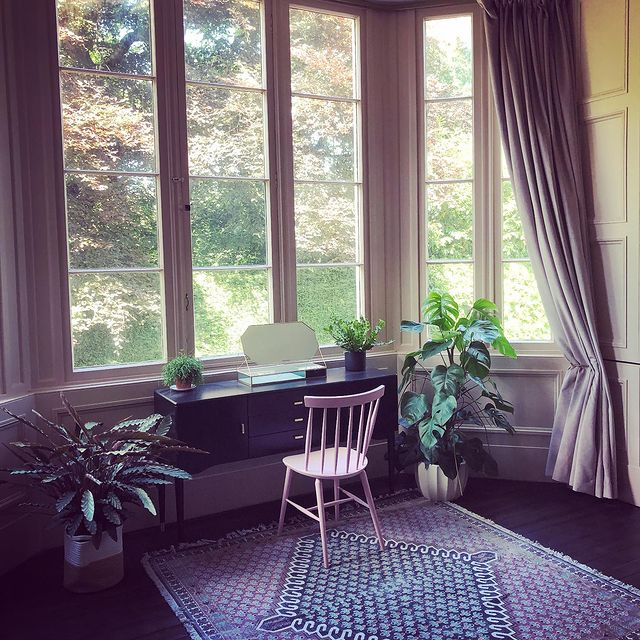 This bedroom didn't need much to bring it back to life… luckily it retains the original marble fireplace. So we used a bright teal on the walls – Marine Blue by Little Greene. We added a pink velvet scalloped bed, and dressed with coral and turquoise bedding and rugs, and added a splash of neon with this brilliant Aretha print.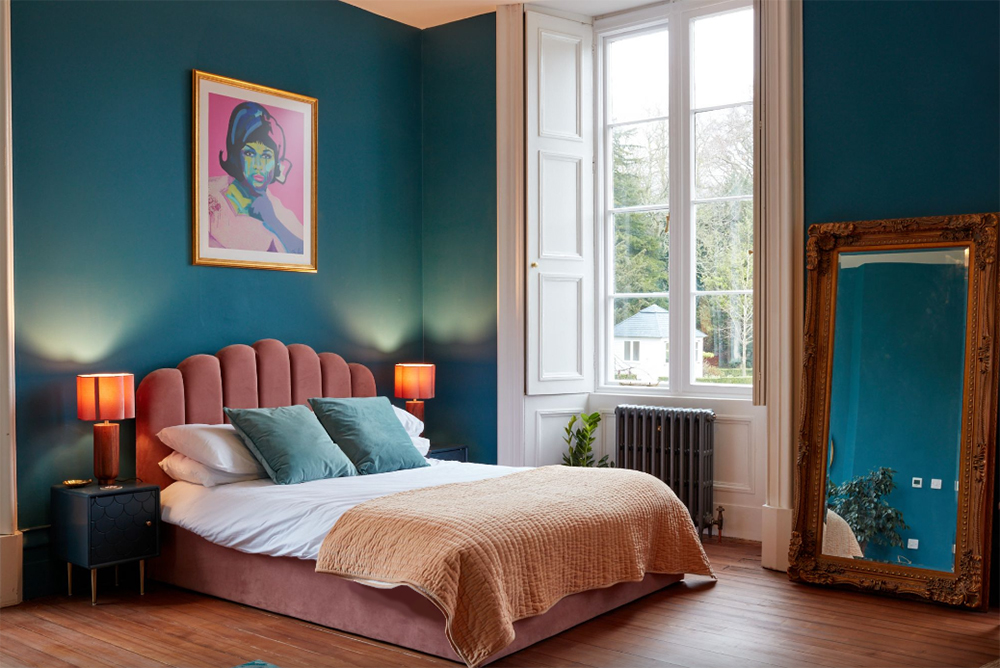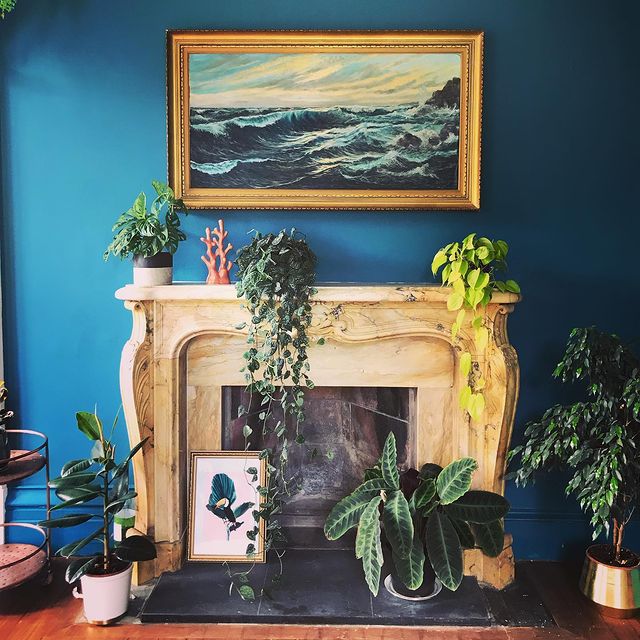 Ensuites
It's not just our bedrooms that have their own individual style, so do the ensuites. In this ensuite we opted for bright coral walls with monochrome fittings and the floor tiles of the moment – terrazzo!
In this one we went for candyfloss pink tiles from Tile Flair, dark grey 'Downpipe' walls, brass fittings and an up-cycled vanity unit.
And there's lots more to come… so watch this space!