We're just completed our third wedding season, and along the way we've learned a thing or two about what does (and doesn't) make a wedding go smoothly.
We also hear lots of stories from couples who come to view on the positive and negative experiences they've had while looking for their wedding venue.
So here's our top tips for less stressful wedding planning, and to making sure your wedding day the best day ever.
Be cut throat with your guest list
We get it, the pressure is real. Especially when you've got loads of cousins, or mum & dad are contributing to the cost of the wedding and really want their neighbours to be there.
But it's your day, so only invite the people you know and love. That way you can spend your day chatting and dancing with your favourite people, rather than having the same polite chit chat over and over again. And another bonus, it will cost you less to keep the guest list down!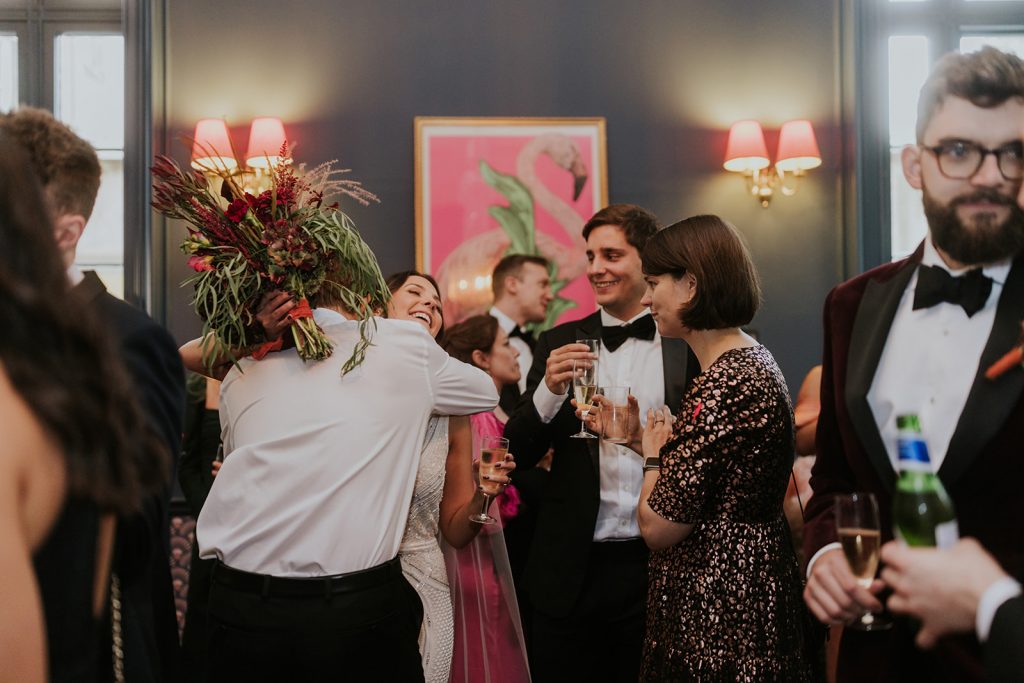 Work out your non-negotiables
Before you start to look at venues, work out what your deal breakers are. Whether you're thinking of an intimate 20 guest microwedding or a large 200+ people wedding, when it comes to wedding venues, size really matters. Lots of venues will have a minimum and / or maximum numbers, so work out a rough guest list to send along with your enquiry emails.
Or if getting the perfect confetti shot is part of your dream wedding, remember to check if it's allowed. It's surprisingly common that it's not.
When we were looking for our own wedding venue, our non-negotioable was finish time. We saw a few venues that had a midnight (or even earlier) kick out time, which was a real deal breaker for us. So if partying until the early hours is your thing, make sure to pick a venue with a later licence (which we have, just saying).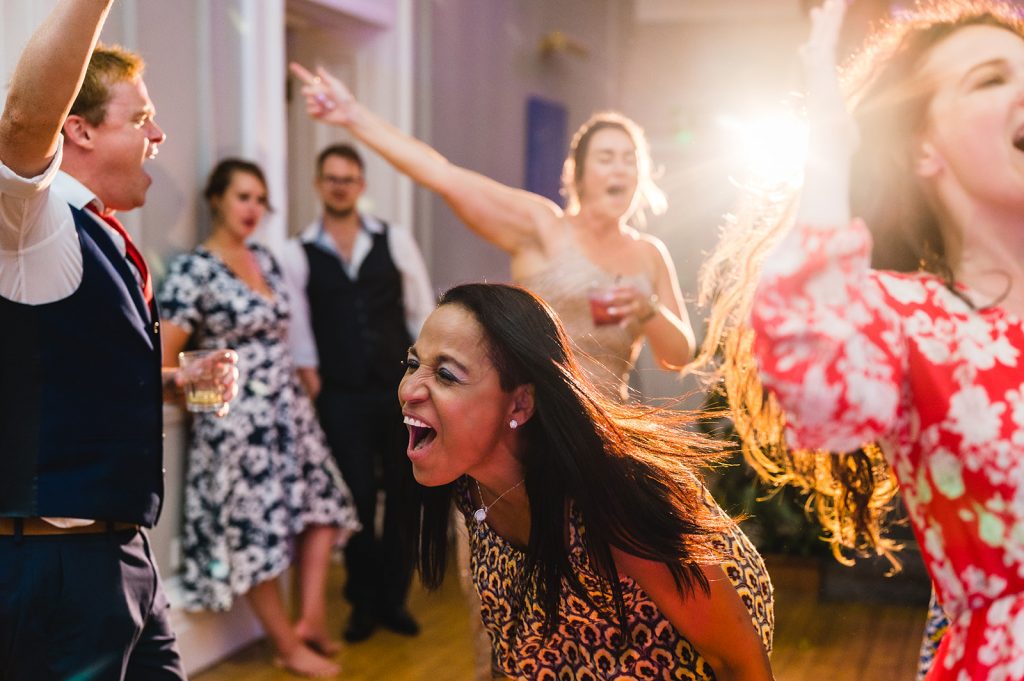 Pick a venue that works whatever the weather
Let's face it, here in the UK the weather is anything but predictable. So unless you're planning on getting married abroad (and even then you can't guarantee the sunshine), it's best to pick a venue that's got good and bad weather options for your ceremony and drinks reception. That way it takes the pressure off a little and you won't be frantically refreshing that weather app in the run up to the wedding.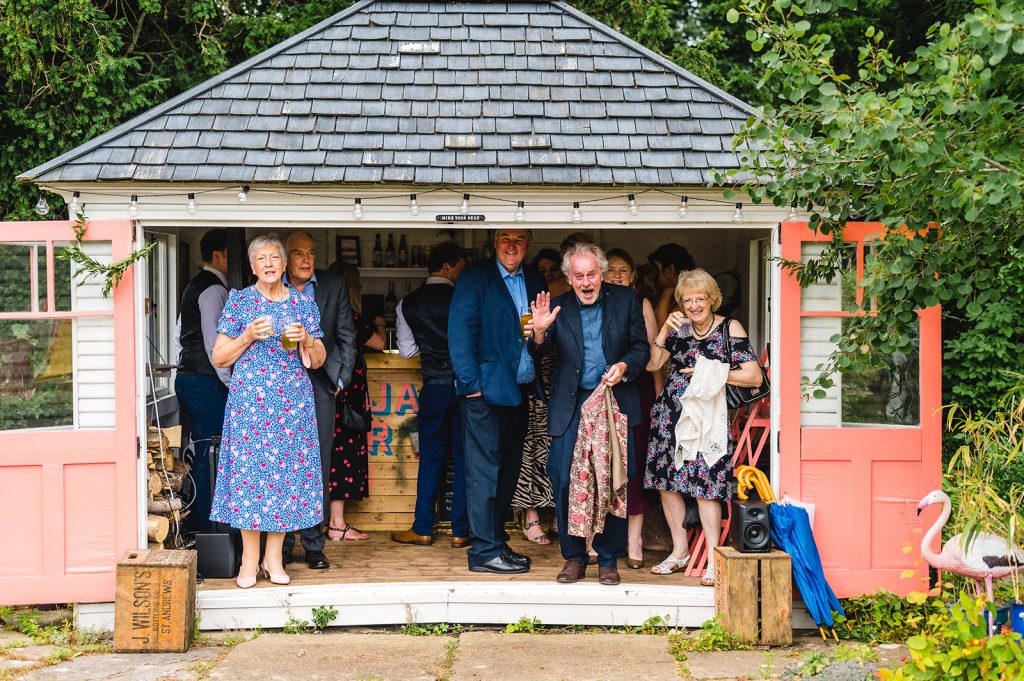 Choose suppliers you'd be friends with
You're going to end up spending quite a lot of time with your suppliers, both in the run up to the wedding, and on the day / weekend. Especially your venue staff if they're as hands on as we are! So make sure to choose people you want to hang out (and ideally, have a drink) with.
We got to work with some totally brilliant new suppliers this year, such as Lewis MacMichael who took the photo below while doing a shot, that's multi-tasking for you!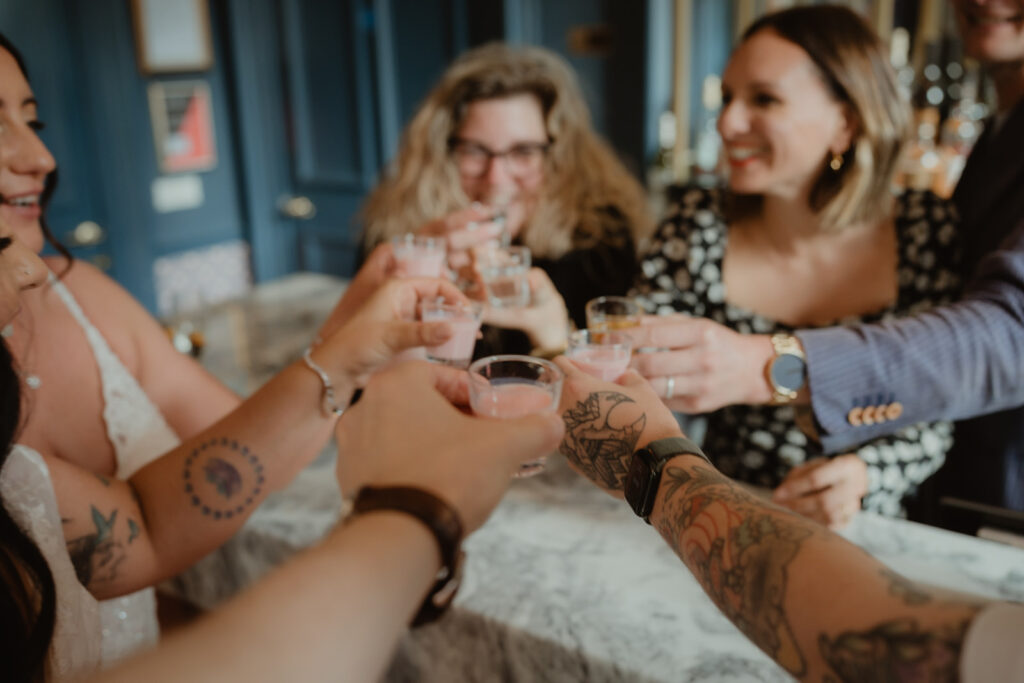 Check what's included
Speaking of being hands on, it's definitely worth checking if your venue will have people on hand during the day to do room changeovers and table set ups, or if that's something that you have to organise yourselves.
Also be sure to check for any ads ons, e.g. are tables and chairs included in the brochure prices, and are there any hidden costs such as a cleaning fee, or wood for firepits (as was actually the case at our own wedding!).
We've tried to be really clear with the pricing in our brochure so there's no nasty surprises down the line. Everything is included such as use of our tables, chairs and other props and equipment, staffing throughout the weekend and coordination on the wedding day. Find out more about planning tools and service we offer in our blog on planning a wedding in 100 days.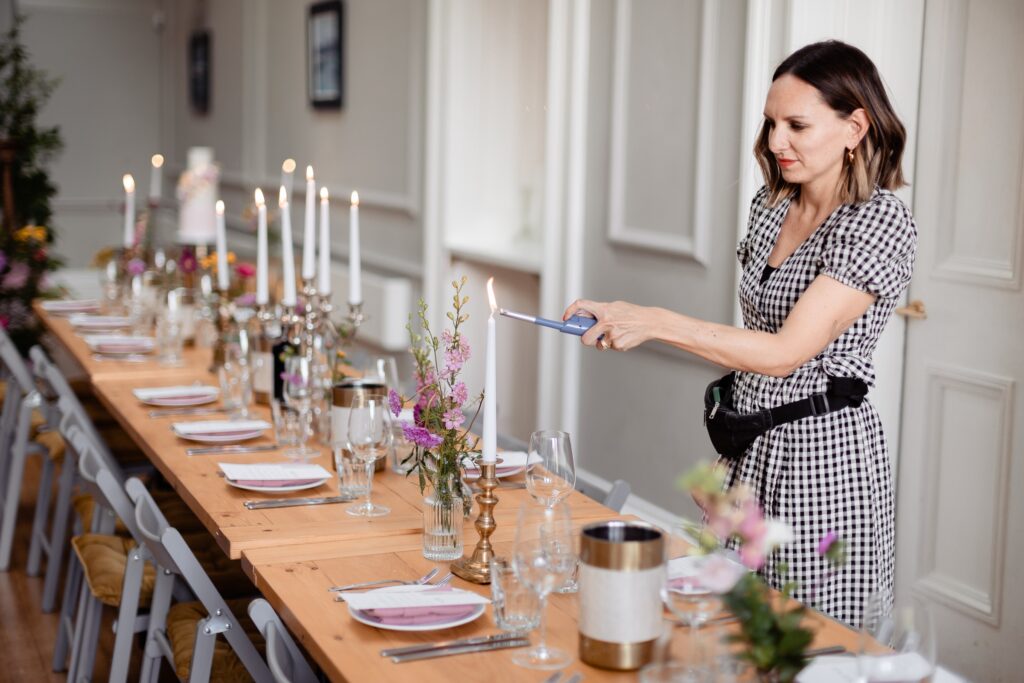 Allow more time than you think
The most common mistake we see is people not allowing enough time for their meal, so the band can't get in to set up on time, and you end up losing an hour of dancing. So make sure to allow plenty of time for each part of the day. And if you end up getting done faster, it just means all the more time to spend hanging out with your favourite people.
If you book Netherbyres as your venue, we'll share tried and tested suggested timings with you that you can use and adapt. On the wedding day, we'll work in our swan-like way to keep everything right on time.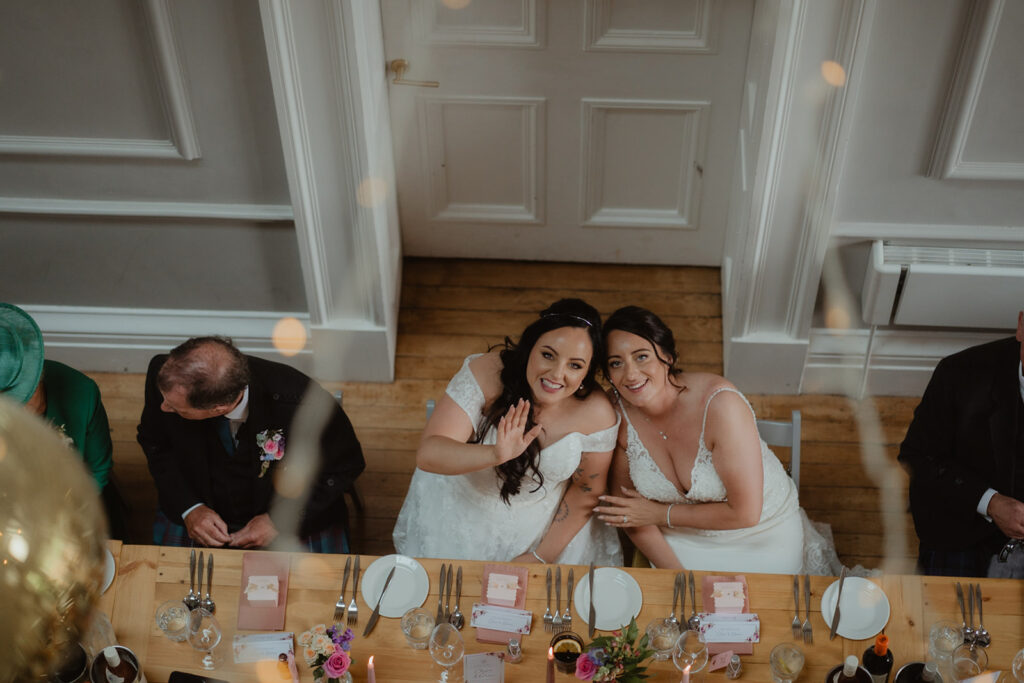 Set some speech ground-rules
We love a good speech at a wedding, but we've seen many a lovely meal go dry thanks to an over-enthusiastic father of the bride. So our advice is…
Give everyone speaking a 10 minute limit – no one needs to hear your life story. And we've heard a few of them!
Do them before the meal starts – this way anyone that's a bit nervy about speaking can enjoy their food afterwards. Having them between courses is a nice way to break them up, but it can make logistics a bit of a nightmare for your caterer.
Allow an extra 15 mins in your timing plan, just in case.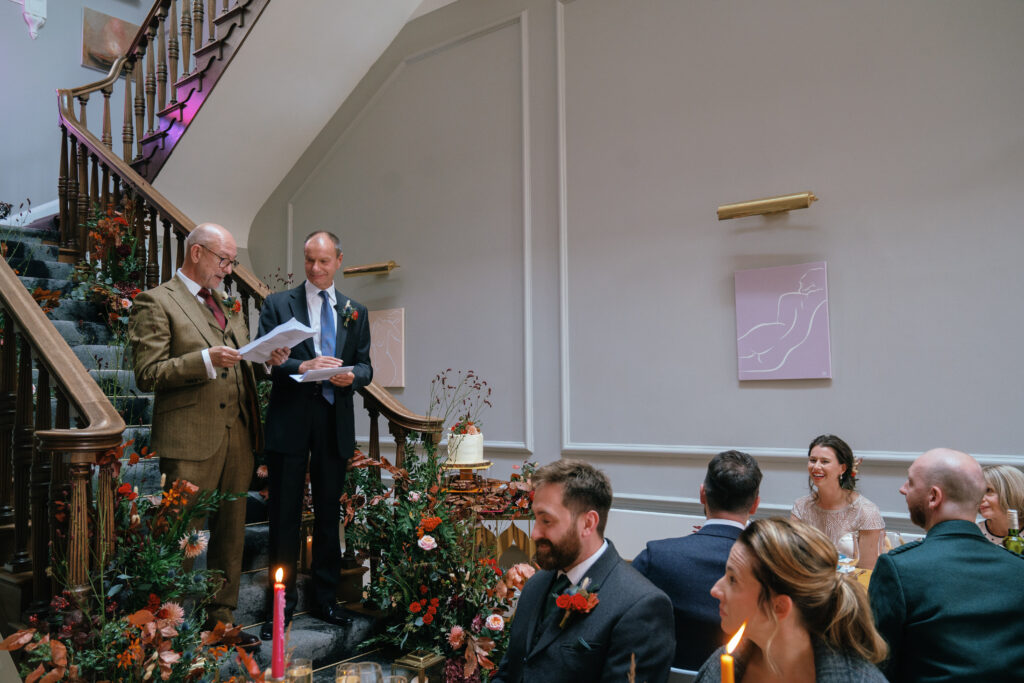 Have a dessert station
We often find that after two courses, guests can get a bit restless and want to move around and chat to other guests. And not everyone wants to eat loads at a wedding.
What can work well is to have a dessert station away from the main dining room. That way the guests that want something sweet can have it, and those that don't can make their way to the bar or outside for some air, while the dining room can be cleared and the band can get it to set up for the evening. You could also consider just cutting up your cake (if you're having one) to serve as the dessert, cutting down on cost and food waste. Win win!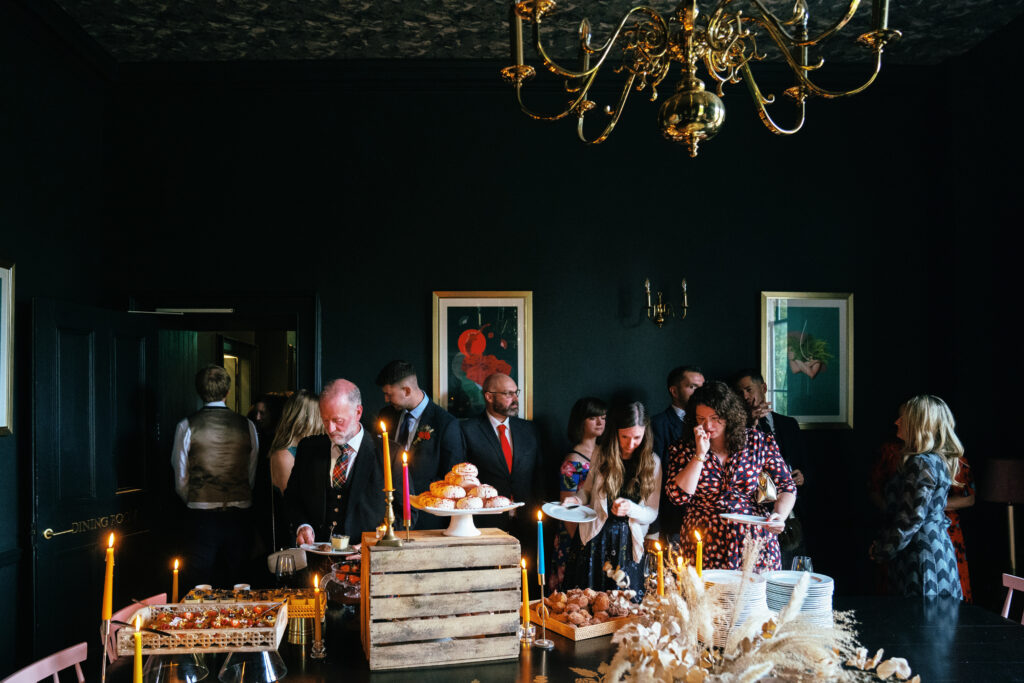 Consider giving evening food a miss
How often to do you finish eating a large meal at 7pm and then eat again at 9? We see a lot of evening food go straight in the bin as people aren't ready for it, which isn't good for your bank balance or the environment. Not to mention that it can interrupt the flow of the evening if you've got a band or DJ. So consider if you really need evening food, especially if you're not having evening guests.
Having a cheese & charcuterie board that people can graze on can be a cheaper and less wasteful option.
Or what works really well is a pizza truck or other street food van option. It's available all night so doesn't mean the whole wedding party are leaving the dancefloor at once, it's made to order so there's not as much waste, and who doesn't love a cold pizza at the end of the night / the next day!
And it doesn't hurt that it looks pretty cool too!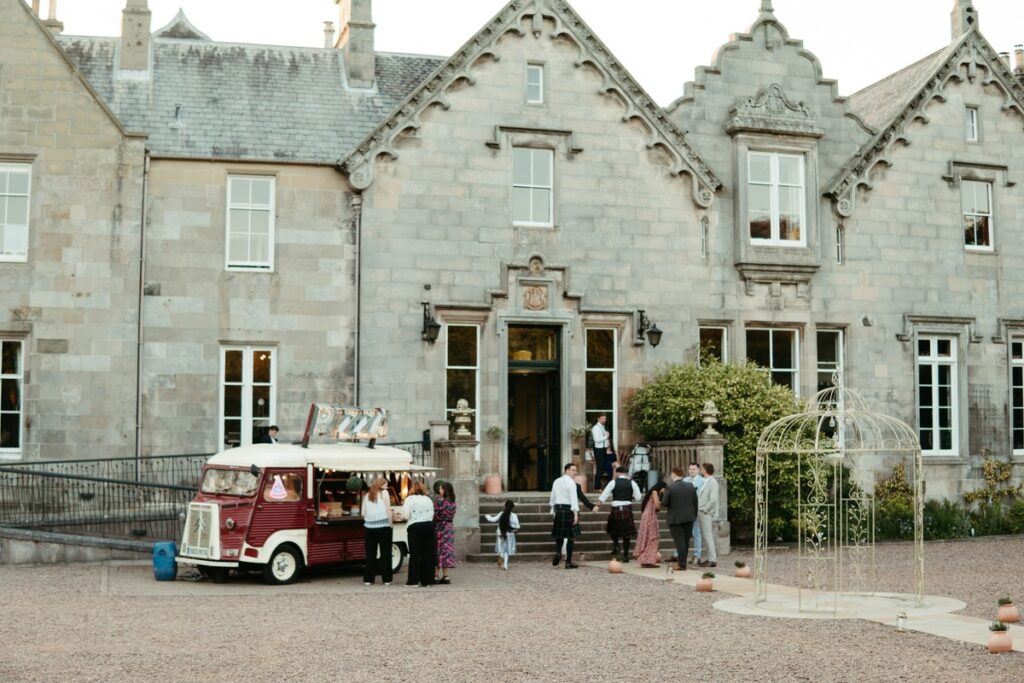 Music matters
It's really worth putting a bit of thought into what music you'll have during the different parts of the day, from the ceremony to the drinks reception and meal, right through to the evening party.
Your ceremony music sets the tone for the day so choose songs that fits with the vibe of your wedding, and ideally something that means something to you both. And play it loud enough for everyone to hear!
If you can stretch to having some live music, especially in the evening it can really help to get the party started. But if you can't, a well curated playlist can be just as good and means you get to keep control exactly what tunes are played.
If you're getting married with us and spending hours creating playlists isn't your thing or you just can't find the time, don't worry, Mike has hours of lovingly created playlists he can pop on instead.